Some of the instruments from the Armed Forces Instrument Collection were brought into our workshop for restoration and a general check up. Included in the collection was a viola labeled Charles and Samuel Thompson, London, 1776. The condition of this instrument was so good, one of the musicians from the Army just assumed the viola was new.
It needed the angle of the neck to be raised higher, among other routine adjustments older instruments require after many years. Below is the original top block (inside the viola with the back and sides) into which we reattached the neck at the proper angle.  The hole in the centre of the block is from the iron nail (removed long ago) that the maker hammered in, as they attached the neck while making this viola.  Today necks are glued to the body, not nailed. My assistant managed to save the original top block while she adjusted issues with the ribs and reset the neck.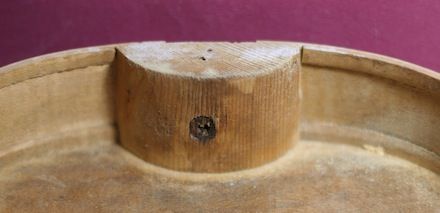 Below is one of the corner blocks, sides and linings inside the viola. Even though the instrument was 238 years old, the inside was fairly clean.  The viola is now back with the Central Band of the Canadian Armed Forces, which provides music for military and Government of Canada events.  Together with a French violin made in 1723 they are probably some of the oldest pieces of equipment in use with the Canadian Armed Forces.