Last week I was invited to the National Arts Centre (NAC) in Ottawa to an event welcoming a new cello to the 'Zukerman Musical Instrument Foundation'. The foundation works to acquire instruments for strings players of the NAC orchestra. The atmosphere in the rehearsal room was upbeat as Harold and Merle Jones of Ottawa, who were donating the cello, were thanked by music director Pinchas Zukerman. Principal cellist of the NAC Orchestra, Amanda Forsyth also played and demonstrated the cello for everyone in the room.
(photo taken by Sabine Gibbins from the Ottawa East EMC newspaper)
The donated cello was made in the workshop of Nicolas Vuillaume in Mirecourt, France around the mid 19th Century. Nicolas Vuillaume was a younger brother of the famous Jean Baptiste Vuillaume. He was born in 1800 in Mirecourt and most likely trained with his father. After which he further trained with his older brother Jean Baptiste in Paris then returned to Mirecourt to open his own workshop.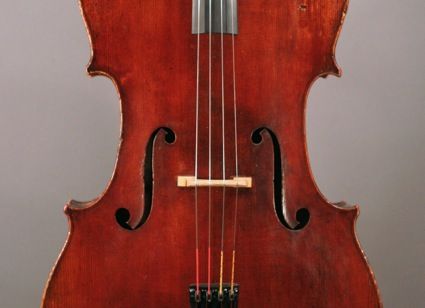 The cello needed some cleaning and extra work to update the set up for use in the orchestra. It was brought straight to our workshop. The fingerboard and bridge had been replaced in an 18th to 19th Century style for period performances, within the last twenty years.  This type of set-up wouldn't suit the NAC orchestra. The very short fingerboard alone would limit how high a cellist could play and the repertoire he or she could perform.   We'll begin making a longer modern fingerboard, new bridge and soundpost for the N.Vuillaume this week.